Wanna Play? Name Your Game
Stay active this season with DC Social Sports Club. Whether you're looking for competitive activities, recreational sports, or bar games, DC Social has something for you. There are over 20 indoor and outdoor programs throughout the Greater Washington DC area so you can easily find a league near your office, home, or favorite bar.
Email
Administrative Office
951 V Street NE
Washington, DC, 20018
Hours: Mon - Fri 10AM to 6PM
Phone
202-290-1969
Our Leagues Enjoy:
8 Week Seasons Including Playoffs
Happy Hours
Most Equipment & Facilities Provided
T-shirts & Trophies
Fun & Social Refs, Umpires & Administrators
Post-Game Happy Hour
Connect with us:
Thanks to our League Partners

Chipotle Mexican Grill

Enterprise CarShare

Jackson Clinic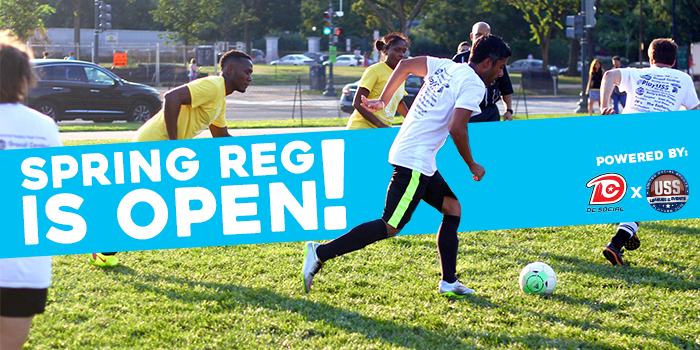 WARM THINGS UP THIS SPRING W/ DC SOCIAL SPORTS, NOW POWERED BY UNITED SOCIAL SPORTS!
The spring brings new leagues, and a brand new partnership! DC Social is now officially powered by United Social Sports. Get your friends together for a season of social sports action! Meet new people, get more social, and hit the bar for some post game drinks!
New for Spring 2016:
Basketball
VA - Alexandria - Sun Men's ULTRA
Bocce
Bowling
Cornhole
Flag Football
DC - Monument - Sun Men's 5v5 - Ultra
VA - Arlington - Sun 8v8 ULTRA
Soccer
VA - Arlington - Soccer - Sun (Afternoon)
VA - Arlington - Wed Men's ULTRA
Softball
Street Hockey
Tennis
DC - Quincy Park - Wed - Social
Volleyball
DC - Lincoln - Sand - Mon 4v4 ULTRA
DC - NCS - Thur (Indoor) ULTRA
Looking for more Leagues?
Check out out new partner United Social Sports.